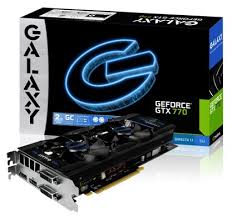 This post looks into the best list of video cards compiled using the specs, prices, performance tests, and user reviews from sites like Amazon, Newegg, and Toms hardware. All 5 of the video cards in this list are solid cards, especially if you are a gamer.
I am sure any of us would love to go out and buy the $600 video card and just be done with it. However, most of us don't have that kind of money. So, it is often best to look for the best bang for the buck. That is what this list tries to accomplish. Let's dive right in.
Galaxy GeForce GTX 770 GC 2GB GDDR5 PCI Express 3.0
I am going to go ahead and start with the most expensive and best video card on this list. The Galaxy GeForce GTX 770 is currently just under $400. However, even at this price, it provides great performance. This card can pretty much keep up with the other cards going for $600 or more.
Sapphire Radeon HD 7870 GHZ OC 2 GB 256 -bit GDDR5
This card is a beast that comes in right under the $200 dollar price point. The Sapphire Radeon HD 7870 can still handle all the latest games without too much trouble at all. You may not be able to run everything on the highest settings, but you can get pretty close.
HIS 7790 iCooler Turbo 1GB GDDR5
If you are on a tight budget, then this is a solid card for you. This card is priced under $150 and provides great performance for the price.  This card can still play the latest games for sure. You won't be able to play at the highest settings, but you should be lag free for the next few years with this video card.
EVGA GeForce GTX760 2GB GDDR5 256bit
If you have close to $250 to spend, the EVGA GeForce GTX760 is a great card for the money. This card perform very well with games like battlefield 3, call of duty Black ops II, and StarCraft 2. This card should also have some staying power as well with how well this currently handles these games.
EVGA GeForce GTX650Ti Boost SuperClocked 2GB GDDR5 192bit
Last but not least is the EVGA GeForce GTX650Ti. This card is currently right above the $150 price point. This card has a ton of great reviews and provides great performance for the money. This is another card that can handle the latest games, although not on high, quite well. It should be able to handle the next generation of games at decent settings as well.
Generally speaking, you can't really go wrong with any video card on this list. It really just depends on your budget and your particular needs.