So, your computer is running slow and it is really starting to get on your nerves. This can be a very frustrating situation if you are trying to get important work done. If you are able to, it is definitely worth setting a few minutes aside to try to fix your slow PC. In this guide, we take a look a 9 Free ways to fix a slow computer.
1) Defragment the Hard Drive
This is one of the easiest things you can do to regain some speed. If the hard drive is fragmented, it can lead to poor performance. To defrag, simply open up "my computer" and right click on the drive you wish to defragment. Then, click properties, click tools, and click defragment now. Just follow the instructions from here in Windows. In Windows 7, 8 and 10, you can have Windows automatically defrag your drive based on a schedule. Important note: If you have an SSD, you won't want to defragment your hard drive.
2) Remove Spyware
You don't want spyware on your computer for multiple reasons. Removing spyware can both speed up your computer and keep your computer more secure. I use the free version of Ad-Aware by lavasoft for this. It is free, easy to use, and does a good job cleaning. All you need to do is to simply download and install Ad-Aware and then let it scan and remove any spyware. That is it!
3) Remove Malware
Hopefully, there isn't any malware on your computer. However, if there is, it can really slow you down. You can use malwarebytes to check for and remove any malware. Malwarebytes is free and does a great job finding and eliminating any problems. Just like the tip above, all you need to do is to download and install malwarebytes and then run a scan with it.
4) Remove Unused Programs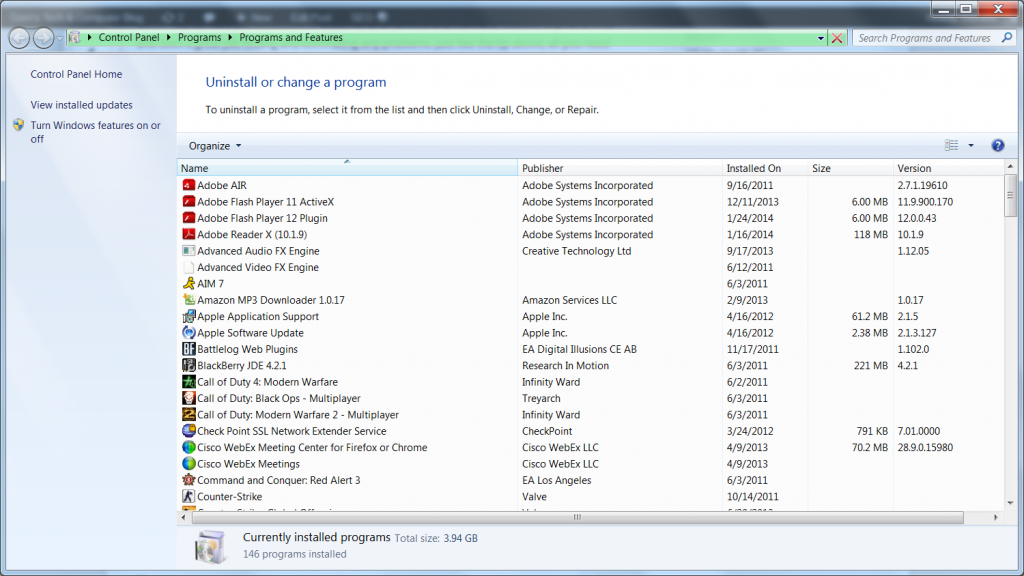 Do you have any programs that you no longer use? If so, removing these can free up disk space and system resources which will help the speed of your PC. I would recommend using the add/remove programs tool found in the control panel for this. This will make sure any programs are properly uninstalled.
To do this, Open Programs and Features by clicking the Start button, clicking Control Panel, clicking Programs, and then clicking Programs and Features. From here, you can select a program you no longer need and click uninstall.
5) Disable Windows Indexing Service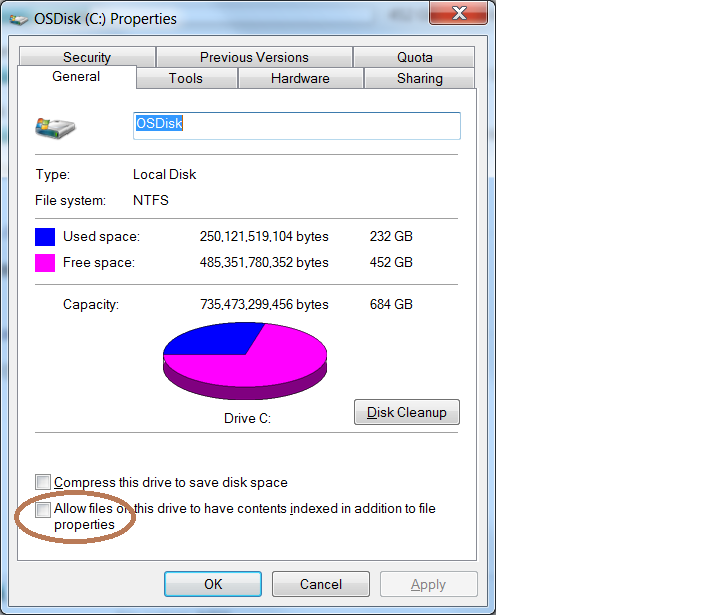 This is another simple one that can add a tiny speed boost. To disable windows indexing, open up "My Computer", Right Click on C:, Click properties, Uncheck "Allow Indexing Service to index this disk for fast file searching", click OK.
6) Physically Clean Your Computer
If your computer is getting up their in age, cleaning out the dust can reduce heat and speed up the system. I would recommend wiping down the inside and outside of the case and then using a can of compressed air to clean the dust out of the fans and off the motherboard. Make sure you shut down and unplug the computer before opening it up.
7) Remove Temporary Internet Files
This is a pretty quick one that may speed up your browsing experience. Here is how you do this in IE. Here is how you do it in Firefox. If you haven't done this is a long time, this can really help make your browsing experience faster and more enjoyable as well.
8) Remove or move old files, photos, videos, pictures, etc
This is similar to the tip about removing old programs. If you are able to free up some disk space, you may be able to increase the performance of your hard drive. If you find a lot to remove, I would recommend defragmenting your hard drive again after you remove these files.
9) Cut down on what Starts Up When Windows Starts
Using Microsoft's msconfig tool, you can cut down on the number of programs that automatically start up when Windows starts. Every program that auto-starts uses system resources. Why not just start up infrequently used programs when you actually need them?
You can edit your startup by clicking the Windows icon or start, then typing in msconfig into the search bar. Next, go to the tab labeled start-up. From here, you can pick and choose what programs you want to disable when Windows first starts up. For example, do you really need iTunes, Steam, AIM, etc to all start when Windows starts? Why not just run them when you need them. You can check out this guide for more details on how to do this.
Bonus Tip
Adding More RAM Can Make a Big Difference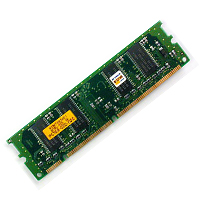 If you have an older computer, you can often improve its performance drastically by simply adding more RAM. If your PC is slow and you are able to add 2 GB or more of RAM to your existing PC, you will really notice a difference. This is a cheap way to get an extra year or two out of your existing computer.
Many novice PC users are worried they won't do this correctly. Upgrading Your Memory is super easy. The memory simply snaps in. The only thing you need to worry about is making sure you buy the correct memory. One tool you can use is the Crucial Memory Scanner. This tool will tell you exactly what kind of memory you need and how much memory you can add.