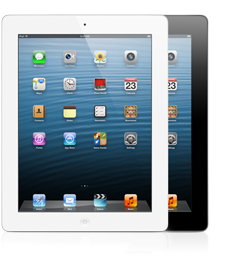 If you've had a tablet for some time, and assuming you have an inclination to explore the diversity of available apps – then you've likely realized how widely useful these devices can be. Even so, chances are you haven't discovered some of the most techie-oriented and genuinely practical uses you can get from this kind of gadget, when coupled with a computer.
For example, did you know that your tablet can be used as a touch-pad to control your computer, or as an external screen? This article will show you how to turn your tablet into a PC peripheral, in ways you have never imagined possible.
Tablet as secondary screen
Recommended apps: Airdisplay (iOS or Android) or ScreenSlider (Android)
What if you could use your tablet as an external computer screen with touch support? What if it would require no connecting wires, and was really easy to set up? If you install one of the apps mentioned above, you'll be flinging windows and applications from your computer to your tablet, as though it was an extension of your desktop! This can be great to increase your productivity and improve your workflow. Alternatively, you can use the same apps to have the tablet mirror your computer screen; a useful option if you're making a presentation to someone that's sitting across from you, or even if you want to control your computer from another room using your tablet.
Tablet as an input device
Recommended apps: TouchMouse (iOS) and Remote Mouse (Android)
With either one of the apps above, you can use your tablet as a virtual mouse and keyboard connected to your PC. What's best, it works by Wi-Fi or Bluetooth and it's pretty responsive. This is a great set-up if you often connect your computer to your LCD TV, since it allows controlling the computer easily without having to sit next to it.
Tablet as wireless storage
Recommended apps: WiFi Explorer (Android) and Wireless Transfer App (iOS)
Another cool use for your tablet is using your Tablet for Storage. These apps allow transferring files to and from your computer and tablet, via Wi-Fi. This means you don't have to get a cable when you need to transfer your files, which means you can also start using the storage space on your tablet as wireless thumb drive of sorts. It's extremely practical, and once you start using this you'll never want to connect tablet and computer using a cable.
Tablet as a webcam and microphone
Recommended apps: IP Camera(Android) and WebCamera (iOS)
So you want to do some video-conferencing, but you don't have a webcam available? No worries, you can just use the camera and microphone that's built into your tablet or smartphone. This opens a wide range of options if you're imaginative: from plain video chats to using your phone as a surveillance camera.  Once it starts broadcasting , you can pick up the stream from any computer and see what's happening!
There are some of the coolest examples we could find of using a tablet as a computer peripheral. Is there any other app you would use other than the ones suggested? Do you know of any other surprising uses for a tablet? Make sure to tell us by commenting!