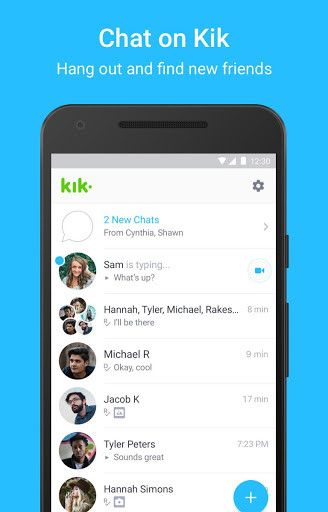 From the day when this chat application was introduced, it has gathered four million registered users. Every day this application witness addition of several million users. Thus, Kik has grown massive, and increasingly used by people from all corners of the world.
Though it is easy and exciting to use this application, learning about its safety features is equally important to use it to the fullest.
How Kik works?
To know about the level of security that Kik application provides, it is important to understand the working mechanism of this application. In order to sign up and access your Kik Login, a person needs to provide a few important things that include an email address, a display name, a distinct username, a password and a photo (optional).
With this much information, users avail the opportunity to participate in a huge chat network along with maintaining the privacy of their personal information. Instead of using a phone number for contacting friends, use of username makes this application secure.
By selecting a strong username and disclosing it only to your close ones, a user can ensure privacy at their end.
How safe is this application for your youngsters?
Kik chat messenger is a safe application, for those who are cautious about its use. Firstly, it is recommended for teens who are 13 or above. Secondly, a kik user should know how to use the application in a safe way.
There can be people who represent them in a deceptive way. As Kik does not ask for any personal information, there is no possibility of user's personal information to get leaked.
To save from people with malicious intent, it is very important to select the right username. A strong and difficult to guess username can prevent others to access your Kik profile and data in an unauthorized manner.
Even if a person gets access to your username, then kik provides a special security feature, i.e., blocking. With this feature, you can easily block the person from contacting you or messaging you.
Some important tips that every Kik parent should know
Though Kik is a rapidly emerging chat application among people, being aware of some of the essential security tips would go a long way in securing your child interaction on this app.
Learn about the username of your child on Kik
Username is the means by which you can access and track your child's conversation and activity on the application. This will help you know any suspicious activity in the child's Kik account.
Revoke phone privileges without any hesitation
If you notice any misbehave of your child with respect to the use of Kik application, then as a parent you should not be afraid in revoking their privileges of the Kik app. This can be done by deletion of the account and uninstalling the application on the device that is used to access it.
Inform Kik technical professionals about any suspicion related to Kik account
Though Kik is a highly safe platform, if you figure out any misbehaviour, or hacking of personal information then you must need to inform Kik professionals about it.
Ways to make your username not guessable
In place of using your name as your username, the right way is to choose a series of letters, digits, words, special characters in uppercase as well as lowercase. This strategy will assist in making it hard to detect.
Kik application has gained attention and appreciation from millions of users worldwide. For safety-conscious users, parents and people, this application has inbuilt advanced security measures that restrict any illegitimate access into user's account.