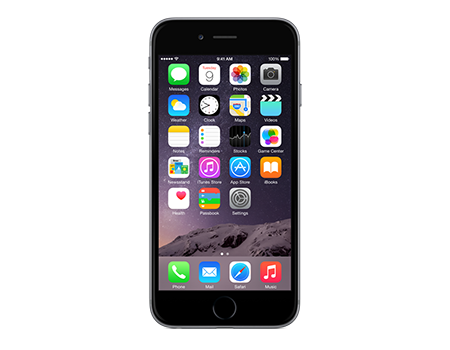 The iPhone line represents one of the most widely used smartphones in the world, and so news of the newest additions to the legacy, the iPhone 6 and 6+, was met with widespread anticipation. Most eyes flocked to the flashier iPhone 6+ with its larger screen and more distinct form factor, but the iPhone 6 was also designed as a standout product and has plenty to offer the vast majority of Apple fans, new and old.
iPhone 6+
The iPhone 6+ is the much-hyped star of the two debuts, and for good reason. The obvious difference is the 5.5 inch screen, which is rated at 401 pixels per square inch for an ultra-high definition picture. Other improvements are to the camera, which incorporates the internal gyroscope for increased stability during action shots, and the upgraded battery rated for 24 hours of talk time.
The new edition of iOS that comes preloaded with the iPhone 6+ is version 8, and among other additions are the introduction of Apple Pay, a secure mobile payments solution that allows fingerprint-verified purchases at participating retailers and several substantial enhancements to Siri, the iPhone's signature digital assistant.
iPhone 6
However, the iPhone 6 can hardly be said to be lacking in any of the categories claimed by the iPhone 6+. Along with all the software upgrades delivered to the iPhone 6+ by iOS 8 such as Siri updates and Apple Pay, the iPhone 6 includes the same enhanced 4G LTE support for high-speed voice and Internet coverage in more areas nationwide.
The practical specs of the standard iPhone 6 are respectable as well, with a 4.7 inch display showing a crisp 326 pixels per square inch serving as a huge leap forward from the 4.0 inch screen of the iPhone 5. It also has improved facial detection and low-light performance capabilities from the camera, though it does lack the advanced internal stabilization of the iPhone 6+. Battery life is more than adequate for most as well, with the standard battery of the iPhone 6 rated for over 14 hours of talk time.
The few extra bells and whistles offered by the iPhone 6+ are surely impressive, but the relatively minor differences between the two models may not justify the increased price tag for all users. Naturally, those who must have the best of everything will be satisfied with nothing but the top of the line iPhone 6+, but those looking for a current generation upgrade for an older iPhone or looking to take their first steps into the iOS experience will find that the standard iPhone 6 exceeds expectations more often than not.