Wouldn't it be great if all your gadgets would somehow draw power out of thin air? How wonderful, not to be caught up in a mess of cables all the time, and never to have to look at a dark, powerless screen that lacks energy to function.
Well, maybe in the future there will be ways to charge your gadgets thorough ether (in fact they've already started to experiment with wireless electricity transfer), but in the meanwhile there are some interesting alternatives which are worth noting. This article will show you five external battery packs of diverse capacity and price range, which you can use to keep your gadgets running for much longer, even when there are no electrical sockets you can plug into.
Proporta TurboCharger Pocket Power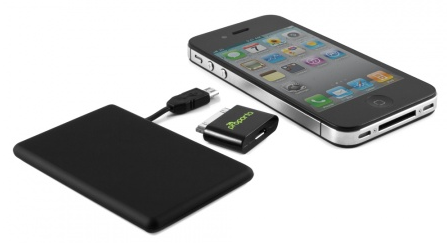 Capacity 830mAh; price: $15
If all you need is a little bit of extra power every now and then – say, to make an important call when your phone is dead – this is one of the best available choices. The Proporta Pocket Charger is incredibly thin and lightweight, so much that it can easily be slipped inside a wallet without bulking it out beyond comfort. The price is also very inviting, although of course… the capacity of this portable battery is quite limited, especially compared to the other models listed here. Still, this can be the ideal solution for those looking for an entry-level external battery at low cost.
Innergie Pocketcell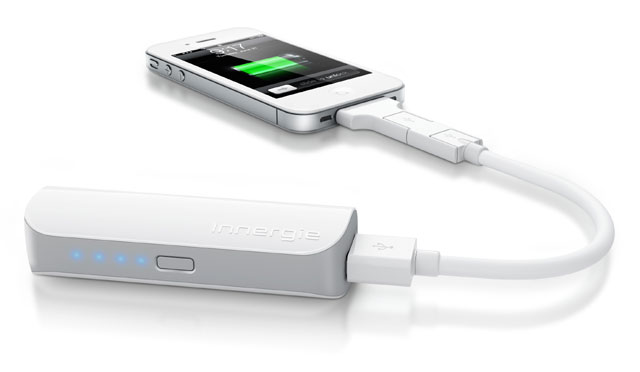 Capacity 3000mAh; cost $50
Moving up a little higher on the cost/capacity scale, the Innergie Pocketcell is a nice looking and solid external charger. It's reasonably portable, and comes with a nifty multi-adapter cable that provides quick connection to different types of devices. Including mini-USB, micro-USB as well as iPhone connectors, this gadget will hold enough power for recharging a smartphone or tablet two or three times over. The cost is somewhat high by comparison to other devices here, but the build quality makes up for it.
Scosche GoBAT II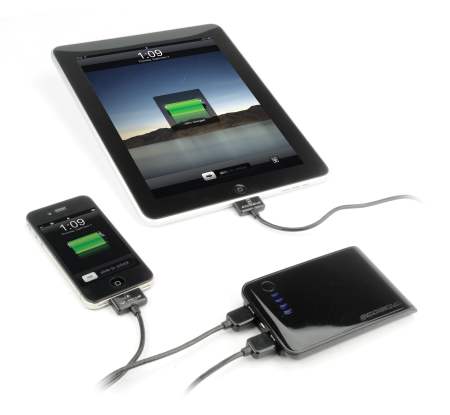 Capacity 5000mAh; $45
The GoBat II is a little cheaper than the previous model, even though it packs almost double the power, as well as allowing simultaneous recharge of two devices. Its drawback is apparently the build quality, which doesn't feel quite as solid. Still, for anyone looking for a great balance between features and price, this could be one of the best available options.
i.Sound Portable Power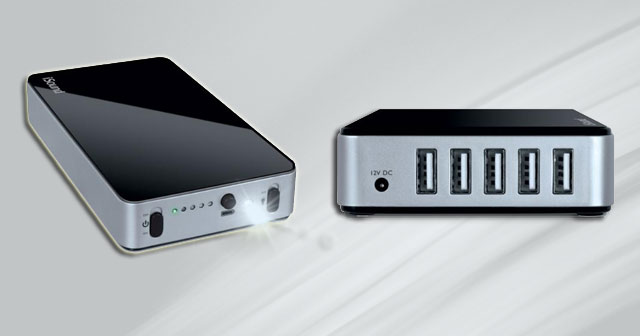 Capacity: 16,000 mAh; price $80
Moving on to higher-capacity batteries, a good pick is the i.Sound portable power. Despite the name, this doesn't double as external speakers; what it does do is provide five USB ports for simultaneous charging of different devices. The ports are somewhat cramped together though, so if you're using oversized connectors you may not be able to benefit from all five ports at once. Also, this device doesn't come with universal connectors (you will have to get those in separate if you need them), and it's somewhat bulky. Still, at around $80 for the 16,000 mAh model, this is a quite sizable battery pack that will please even the most demanding road warriors.
Energenie 20000mAh Portable Laptop Charger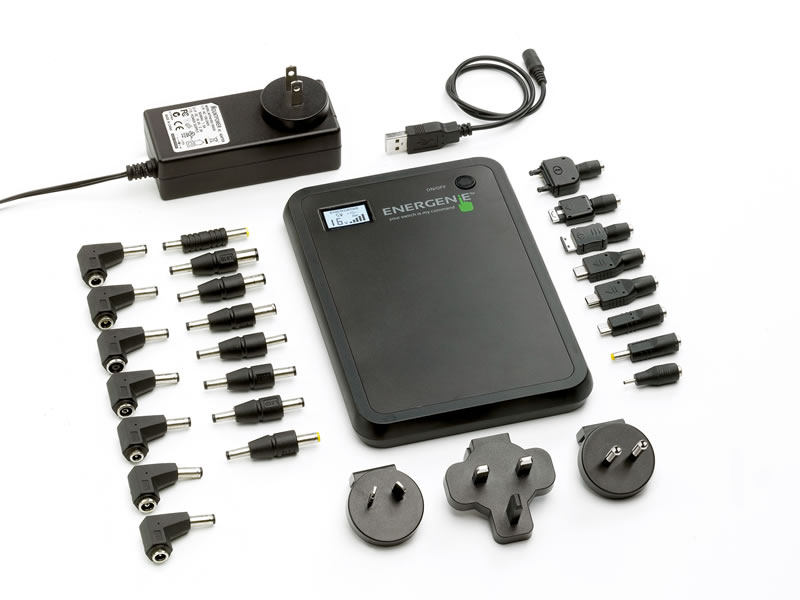 Capacity 20,000mAh; Price: $200
If you want to go all out in terms of power capacity and features, this charger from Energenie may suit the bill. As you can see from the picture, it comes with a veritable swiss knife style of connectors and adapters, allowing you to charge pretty much any device – from smartphones and tablets to laptops and pretty much anything that can be charged. The price may be a little high for the average user, but the juice provided by this gadget is quite impressive. Get one of these and it's unlikely your gadgets will run out of power every again!