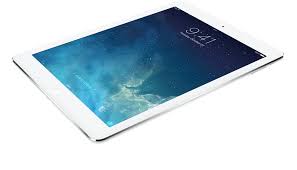 So you recently bought your brand new iPad Air and you are enjoying every bit of it. Well, you are not alone, as this amazing gadget has successfully grabbed the attention of millions of people around the world. The demand has tremendously increased and soon the company plans to expand its market. Launched on November 1st 2013 in 40 countries, iPad Air is the fifth generation tablet which incorporates amazing features and class. But, since it is an Apple product, it seems incomplete without funky accessories attached to it. So, if you're already enjoying the new iPad Air, and still feeling that something is incomplete, here are 5 cool iPad Air accessories that you need to invest in ASAP.
It may not be the most exciting, but it is definitely an essential accessory to add to your tablet. It is a must buy if you wish to protect the shiny new screen of your tablet. The best part is that it is not at all expensive and easily available at all general accessory stores. Make sure you invest in it as soon as you uncover your tablet as it will help you increase the longevity.
This can absolutely be a super cool addition to your iPad if you are fond of writing and drawing. With 2k levels of pressure sensitivity, shortcut buttons and Bluetooth 4.0, it makes an amazing stylus. It is stylish and gives a very firm grip so you can easily work with it without being distracted with the slips.
You have already spent $500 on your new tablet and now it is important that you make a small investment to make sure your new Apple gadget is fully protected. There's always a chance of getting clumsy, especially if you have a really fast lifestyle. To protect your gadget from the potential damages of drops and scratches, investing in a survivor case would be a really smart move.
If you are fond of listening music on the go, watching videos and movies you might want to consider investing in a good pair of headphones. Even though there are cheaper alternatives, it is always advised to get the best so that you can make most of the technology you have paid for. Apple iPad has been equipped with latest sound technology that can only be experienced with good quality headphones. Investing in a comfortable and great-sounding pair of headphones would be a great pick.
After spending hundreds of dollars on a tablet, you must be out of budget to buy complimentary accessories. Don't worry, you can always consider investing in a multi-purpose accessory that can be easily used as carrying case, hands-free and stand. It will pretty much do everything you would have gotten otherwise by investing in separate accessories.
This is not all, there are plenty of other cool accessories that you can try to enhance the overall look and feel of your Apple iPad. After shedding hundreds of dollars, it is a wise decision to spend a few more dollars on products that can help you enhance the user experience, as well as protect the gadget for a long time.